Countdown to Cinco de Mayo 2017: Day 9 – Fire-Roasted Salsa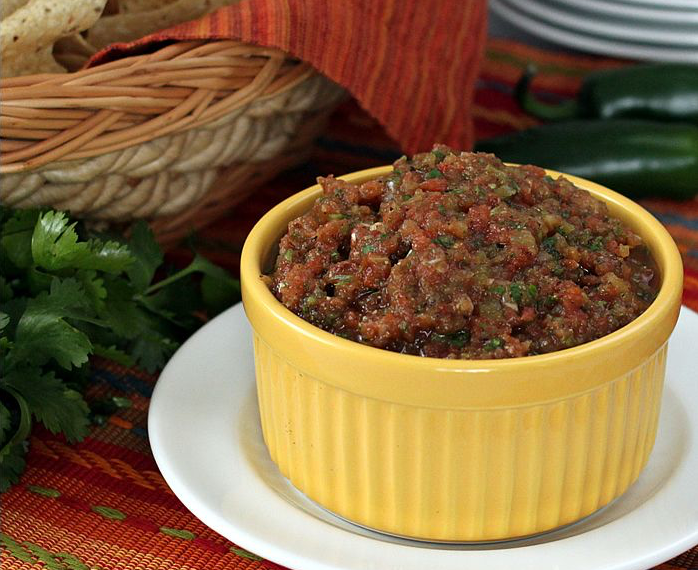 *Fire Roasted Salsa Recipes & Photos Courtesy of The Yummy Life
We can't forget about the side dishes on the best day to eat Mexican food. And what better way to eat those delicious loaded nachos (from Day 2 of our Cinco de Mayo countdown list) then to couple it with this equally tasty and spicy fire-roasted salsa!
Whether having it on the side or topping it on tortillas, chips, tacos, burritos, enchiladas or even seasoned rice, this versatile recipe will come in handy when looking for last second touches to the perfect Cinco de Mayo meal. 
You simply can't go wrong with this one!
*INGREDIENTS
Garlic
Onion
Fresh jalapenos
Canned fire-roasted green chiles
Canned diced fire roasted tomatoes
Cilantro
Oregano
Cumin
Pepper & salt
Lime juice,
Cider Vinegar
Crushed red pepper, o̶p̶t̶i̶o̶n̶a̶l̶ (*ahem* DEFINITELY Fuegorita time!!!)
*INSTRUCTIONS
Add garlic to the food processor until minced
Quarter the onion, slice the jalapenos and add they to the processor. If looking for some extra heat, add the jalapeno seeds

Add a loosely packed cup of fresh cilantro leaves to the processor. Add the canned green chiles and tomatoes, add the lime juice, vinegar, oregano, cumin, salt, pepper, and crushed red flakes. Once all added, then mix

Pulse the mixture a few times until it's the chunkiness you prefer
---